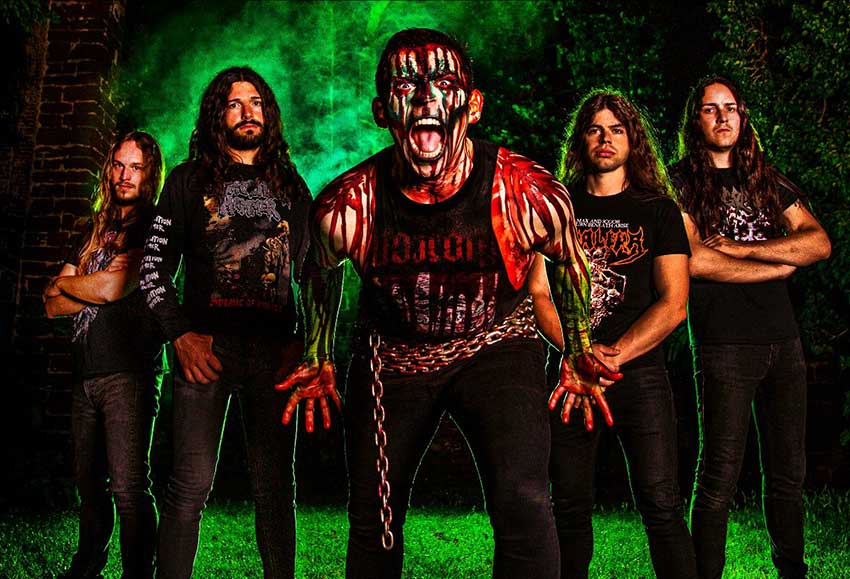 Carnation unveils the live album + the "Reincarnation" video
[ad_1]
Share the post "Carnation unveils the live album + the video of" Reincarnation ""
Old-fashioned death metal revivalists Carnation have announced the physical release of their performance 'Galaxy Studio Sessions', which previously aired live on April 18, 2021. The live album is scheduled for release on January 7, 2022 and will be available on all digital platforms and a limited edition vinyl version. Pre-orders are now available HERE.
To celebrate, CARNATION is now releasing the first live video of the track "Reincarnation", which is taken from the band's latest album, "Where Death Lies". The clip is available at THIS LOCATION [embedded below].
CARNATION comments, "To celebrate the great experience we had at our livestream event at Galaxy Studios, we have decided to release the entire recording as a standalone live album. We consider this performance to be an important step in our "Where Death Lies" album cycle, as we were finally able to present the new tracks live after several unsuccessful attempts. We hope you enjoy this recording and that it serves as a reminder to be persistent no matter what. "
ICYMI: Carnation now has its own Instagram filter via Instagram Stories! Look for the Carnation filter via @Seasonofmistofficial to have fun!
'Where Death Lies' is available NOW and can be ordered, streamed and downloaded HERE.
List of tracks:
1. Iron Discipline (3:52) (LISTEN)
2. Sepulcher of Weathering (4:22) (WATCH)
3. Where Death Is (3:26) (LISTEN)
4. The excision of spirits (3:46)
5. Napalm Ascension (4:09)
6. The serpent's breath (4:47)
7. Malformed regrowth (3:09)
8. Reincarnation (5:24) (WATCH)
9. Into the abyss (7:39)
Total playing time: 40:34
Align:
Simon Duson – Voice
Jonathan Verstrepen – Guitars
Bert Vervoort – Guitars
Yarne Heylen – Bass
Vincent Verstrepen – Drums
Press release courtesy of Season of Mist
Also discover: Lucifer releases new video single, "Crucifix (I Burn For You)"
[ad_2]