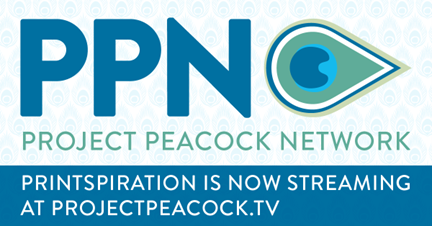 Print Media Center launches ProjectPeacock.TV, a streaming platform
Print Media Centr announces the launch of Project Peacock Network, a video streaming platform sharing print inspiration and resources with print and marketing professionals around the world, 24/7/365.
The Project Peacock network can be accessed at ProjectPeacock.TV and kicks off with the Project Peacock: Print Production series, produced in partnership with INK.TV. These episodes share the benefits of collaboration between creative, paper, print, finishing and technology partners to ensure that printed materials achieve the intended creative and business results.
Project Peacock started in 2017 as a show-and-tell in ad agencies. In 2019, Project Peacock transformed into a print fair where students, print service providers and industry vendors were also invited to attend. In 2021, the Project Peacock online platform was launched for online networking and events with a growing network of Peacock partners.
"Project Peacock has had over 4,000 attendees to date, but the data for views of platform session replays tells me that audiences want quality content to watch for themselves and a platform to watch. form of streaming was the perfect way to achieve this," said Deborah Corn, Intergalactic Ambassador to the Printerverse at Print Media Centr and founder of Project Peacock.
The Peacock Network Project is produced in association with Inkish.TV. "We've worked closely with Deborah Corn and Print Media Centr for years, and I was very pleased when she approached INKISH for this exciting project," says Morten Reitoft, Managing Editor. "INKISH is about storytelling, and ProjectPeacock.TV reaches end users, PSPs, OEMs and vendors, completing our mission to serve the entire value chain with our films."
Project Peacock: Print Production, is the first series to be launched on the network. Each episode tells a story about the collaboration and how the unique challenges of featured projects were resolved.
Canon Solutions America and Domtar Paper, which have been part of Project Peacock since its inception, and Neenah are the first companies to have streaming episodes on the platform.
"Canon Solutions America is proud to support Project Peacock and help launch Project Peacock: Print Production Series," said Tonya Powers, Canon Solutions America Marketing Manager, Production Print Solutions. Powers continues, "Print is woven into the fabric of our lives and the collaboration between brands, designers and print service providers is what brings these interactions to life. We are thrilled to highlight this collaboration and celebrate these stories.
Meredith Collins, Customer Marketing Manager at Domtar, said, "What better way to highlight the importance of working together than to tell the story of how a few award-winning promotional items were made? A collaborative relationship between paper mill, merchant, printer and designer is a beautiful thing, and Domtar is thrilled to be able to share this story with everyone. What's even more exciting is that we're telling this story on Project Peacock Network, the premier streaming platform for print.
"At Neenah, we see paper as a design element, essential to the success of the finished product. And there is nothing more important in the production process than open communication and collaboration with the printer to ensure that the conceived visions come to life," said Michele Pistone, Marketing Manager, Neenah. Pistone continues, "We couldn't be more excited to be part of this new Print Production series, giving viewers a behind-the-scenes look at our own printed pieces and the challenges we've overcome.
Visit ProjectPeacock.TV to access all the programming and connect for a partnership proposal.
The preceding press release was provided by a company not affiliated with Print impressions. The views expressed herein do not directly reflect the thoughts or opinions of the staff of Print impressions.